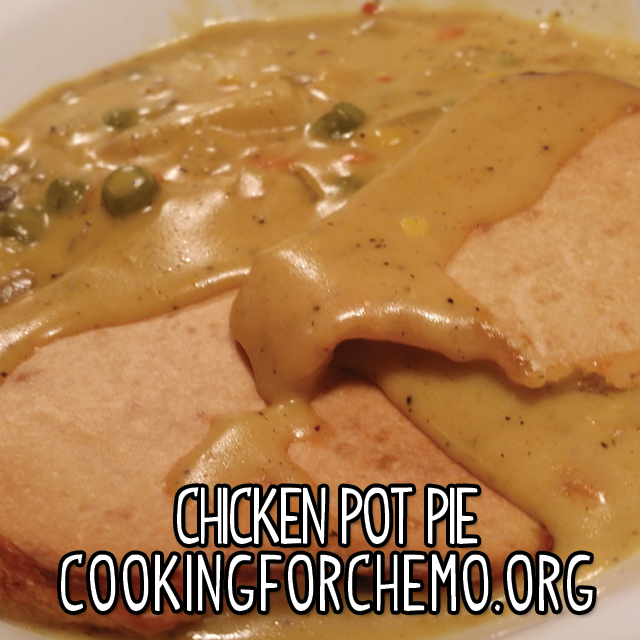 ---
Chicken Pot Pie Recipe for Cancer and Chemotherapy
Ease of Preparation: Easy Recipe
Dish Description:
This recipe is for what I consider to be the easiest way to make a chicken pot pie. The biscuit dough on top adds a nice deviation from the standard flavorless pie crust and makes it fun to eat. The best thing about this dish is it tastes even better as leftovers.
Tasting Guidelines:
This recipe should taste savory and hearty.
The weight of this recipe is medium-heavy but can be balanced with savory, vinegar, and sugar.
The texture of this recipe is soft.
This recipe is good for people with low to moderate treatment side effects.
This recipe gives an emotional response of a dinner your mom would have made.
This recipe is best categorized as classic American.
Food Ingredients:
3 chicken breasts, cooked and chopped
1/2 c. of cheddar cheese
6 oz. red potatoes, medium diced
6 oz. carrots, medium diced
1 yellow onion, medium diced
6 oz. peas
6 oz. corn kernels
1 can cream of chicken
1 can cream of mushroom
1–2 cups of water
Your favorite baking quick mix prepared for biscuits but adding 1 tsp. baking soda
Flavor Balancers:
kosher salt to taste
2 tbsp. soy sauce
black pepper to taste
1/2 tsp. cayenne or red pepper
2 tbsp. apple cider vinegar or red wine vinegar
1 tbsp. sugar (if using red wine vinegar)
Aromatics:
2 teaspoons red curry powder
1 tbsp. ground sage
Recipe Directions:
Cook your chicken breast. I personally like to use the quick frozen ones for convenience. And to cook them, I will boil them in water until thoroughly cooked. While this is going, sauté your veggies together, being careful not to burn them. Add chopped chicken, and sauté until chicken gets a light brown color.
Prepare your biscuit dough as directed, making certain to add the baking soda. Once chicken has gotten a little golden brown on it. Add your spices and seasonings except for soy sauce, vinegar, and sugar. After mixing seasonings thoroughly, add the soy sauce and coat all food thoroughly. Allow soy sauce to reduce. Add vinegar allow to reduce. Add sugar and canned soups. Mix well. If needed, add water to adjust thickness. Add cheddar cheese mixing thoroughly. Pour filling mixture into a large casserole dish, preferably glass or ceramic dish.
At this point, it is all personal preference.
Method 1
Roll out biscuit dough into a long sheet of dough. Place sheet of dough over filling, making certain that the dough is larger than the casserole dish. Cut off excess trimmings. Cut small cuts in dough to allow pot pie to vent while cooking.
Method 2
The "drop biscuit" method. This is my preferred method because I feel that it adds a certain Southern charm to it. You take the biscuit dough and either roll out the dough onto a sheet and cut biscuits, laying the biscuits on top of the filling. Or free form balls of dough with your hands, about the size of a golf ball, and dot the top of the pot pie filling with freshly made drop biscuit dough.
Bake in preheated oven at 375°F until biscuits/pie covering is thoroughly cooked, about 15 minutes.
Chef Recipe Tips:
If you are in a hurry, and time is of the essence, feel free to save some time and pick up pre-made biscuit dough from your grocery store.
---
Cooking for Chemo focuses on teaching you how to make your food taste good again during cancer and chemotherapy treatments. The flavor and cooking techniques contained within our easy to make recipes will help improve your quality of life as you go through cancer and chemotherapy treatments. Our cooking and flavor techniques can be integrated with any diet regimine. All of our recipes can be made with organic ingredients if you choose. Our holistic approach to cooking will help you not only be able to eat but to also enjoy the taste of your food again during and after cancer and chemotherapy treatments. We have many healthy recipes, crockpot recipes, chicken recipes, dinner recipes, shrimp recipes, pasta recipes, soup recipes, vegan recipes, salad recipes, vegetarian recipes, breakfast recipes, and even a great chili recipe. Talk with your oncologist and dietitian to come up with a quality nutrition plan. This site is not to be taken as or used instead of professional medical advice. Please consult your doctor, oncologist, and dietitian before starting any new diet.
This recipe is taken from Cooking for Chemo …and After! By Chef Ryan Callahan -The Cancer Chef. For more cooking for chemotherapy recipes like this, you can pick up a copy on Amazon or Barnes and Noble. Have specific questions? Email us at cookingforchemo@gmail.com