Keep Cooking for Chemo FREE!
Help us keep Cooking for Chemo FREE. Help us support cancer patients who are going through the most vulnerable part of their life. Our goal is to keep Cooking for Chemo digital classes FREE, online resources FREE, and continue to create new recipes, resources, and podcasts. We ask this in the hope that we can help as many people as possible, especially those who can't afford to pay for our information. If everyone who visited our website donated as little as $1, we could fully fund Cooking for Chemo every month. In the spirit of generosity, we ask you to Pay What You Can for our resources and help support Cooking for Chemo. Thank you for your direct help and support!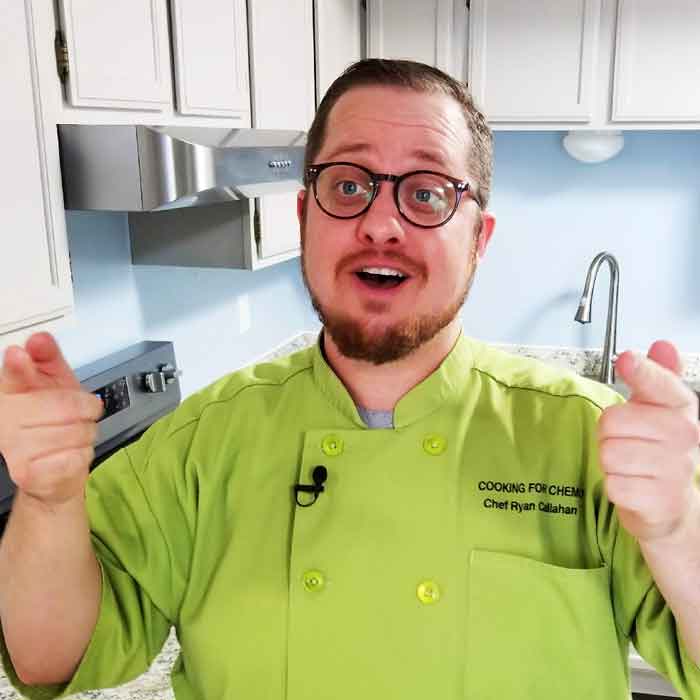 Chef Ryan Callahan and the Cooking for Chemo Crew are located in Wildwood, MO, USA.
Contact us if you would like to:
Set up an Interview
Hire Chef Ryan to Speak at your Event
Invite Chef Ryan to Blog for your blog
Hire Chef Ryan as a Chef Consultant
Utilize Chef Ryan's Cancer Center Consulting Services
Contact us below with additional questions or inquiries
Chef Ryan Callahan
Chef, Author, and Presenter
Host -Cooking for Chemo Podcst
cookingforchemo@gmail.com
720-388-4063
Visit ChefRyanCallahan.Com for a full list of Chef Ryan's Services and rates
Jessie Callahan
Marketing Director
Producer Cooking for Chemo Podcast
cookingforchemo@gmail.com
Our Mailing Address
Cooking for Chemo
17097 Sandalwood Creek Dr
Wildwood MO, 63038