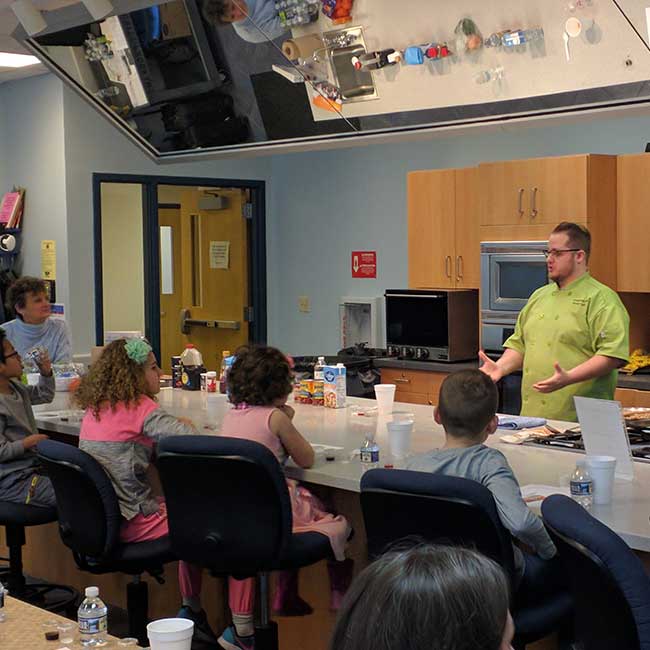 Food doesn't have to taste disgusting!
Cancer patients stop eating during chemo treatments because food is no longer enjoyable.
Who wants to eat food that tastes bad? The answer is NO ONE! During chemotherapy, food begins to taste disgusting, smell terrible, and can hurt when we eat it. All these factors combined create a horrible eating experience. Over time, this causes us to become discouraged and avoid eating all together.
As a cancer supporter, our mission is to teach you HOW to adjust your cooking so your food no longer tastes disgusting! We teach common sense, practical, and easy to use cooking techniques that help you enjoy eating again. Our easy to understand cooking techniques help cancer fighters take one more bite of food to fight off starvation. Our goal is to help you take back a part of your life that cancer has taken away… the simple enjoyment of eating good tasting food.
---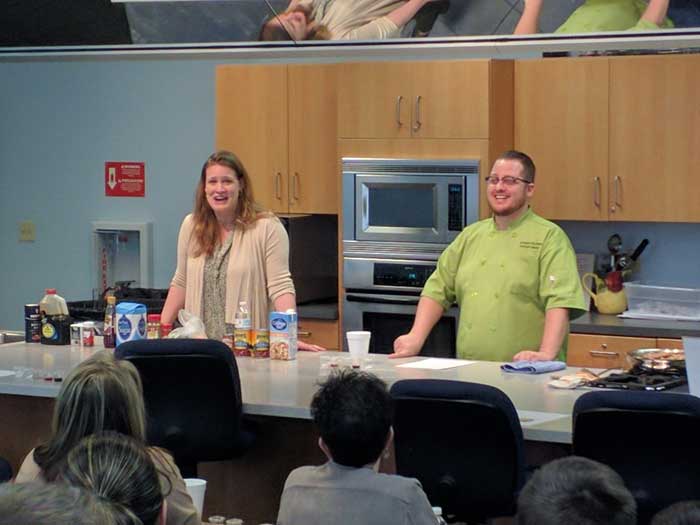 2020 Digital Live Events
Covid-19 has not ended Cooking for Chemo Live Events! We have shifted our delivery method to utilize 100% online, but still fully interactive classes. All of our 2020 classes are digital, which allows you to sign up for a date and time that works best for you and your schedule!
Click on the link below to see the schedule and preview a class Chef Ryan hosted at Gilda's Club Chicago.
Click Here to See the Calendar and Find an Event That Fits Your Schedule!
---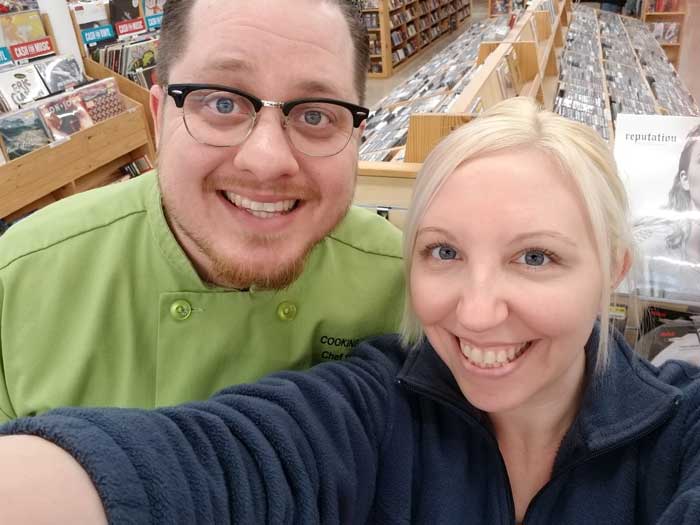 Cooking for Chemo Podcast
We are proud to announce the new Cooking for Chemo Podcast! With episodes lasting about 20 minutes, it's the perfect thing to listen to on you lunch break, your commute, waiting at the doctor's office, or even sitting in the infusion center! Don't forget to subscribe!
You can find and listen to new episodes right here on CookingForChemo.org, on your favorite streaming service, and listen to older episodes on our dedicated Cooking for Chemo Podcast Page

---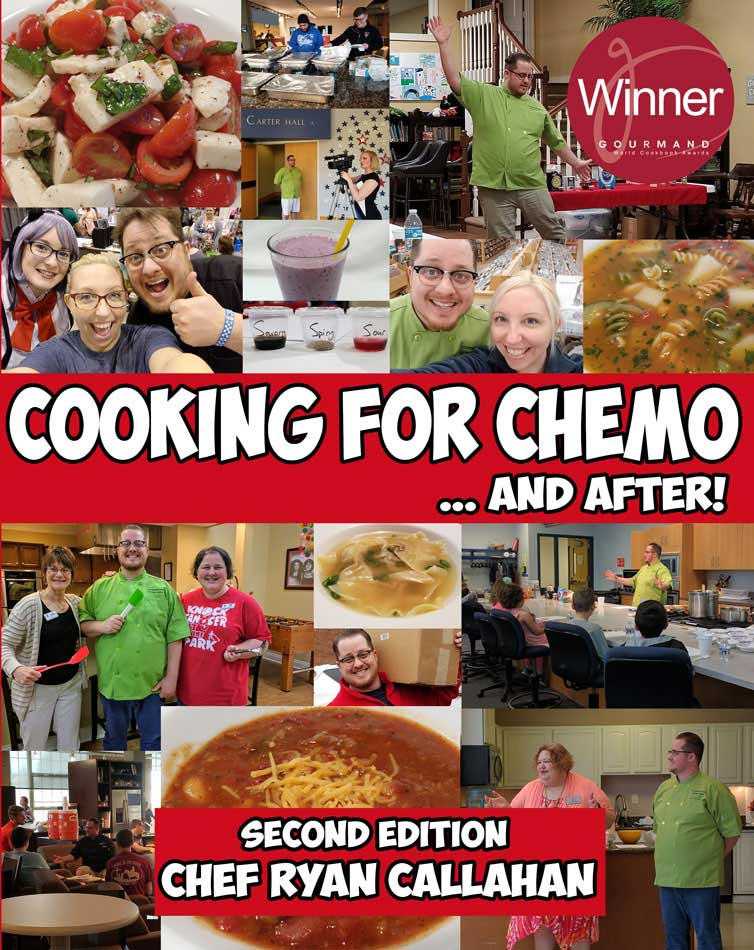 Cooking for Chemo …and After! (Second Edition)
Food doesn't have to taste disgusting anymore!
With this cookbook, you will learn how to use common sense cooking techniques, to fix the flavor of food that YOU want to eat.
This New and Improved Second Edition of Cooking for Chemo… and After! is an innovative, exciting, and practical resource for cancer fighters and their caregivers. Written with ease of use in mind, Chef Ryan guides you through the taste and flavor changes that cancer fighters face every day.
Cooking for Chemo …and After! teaches you how to combat the most common eating related chemo side effects: loss of appetite, metallic taste, mouth sores, nausea, and difficulty chewing & swallowing
Click Here to Purchase Cooking for Chemo …and After!
---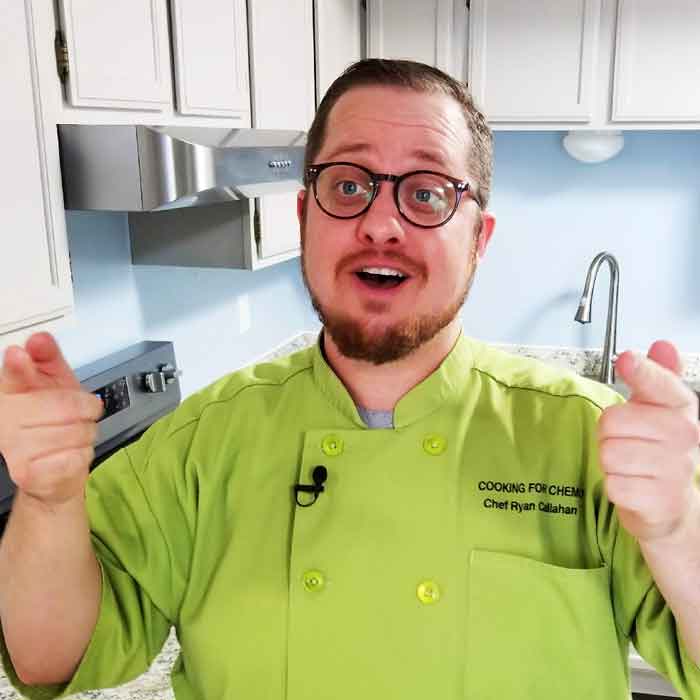 Don't know the difference between sauteing and baking? Burn your food on a daily basis? Brand new to cooking? Learn how to cook from Chef Ryan on his personal website. Chef Ryan has written many helpful articles that will literally hold your hand through the cooking process and make you feel confident in the kitchen! Chef Ryan's personal website is both a general audience cooking resource site, and a place to find out all things related to Chef Ryan Callahan.
Click here to learn more: chefryancallahan.com
---