Cauliflower Sauté Recipe
Tender cauliflower tossed in a sweet and savory sauce. This is a modified Chinese recipe made for use in the average American kitchen.

Tasting Guidelines:
Taste is sweet and savory.
Weight is light but can be balanced with vinegar.
Texture is soft with a little crunch.
Good for people with low to moderate treatment side effects.
Best categorized as American.
Check out this recipe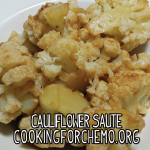 Read More