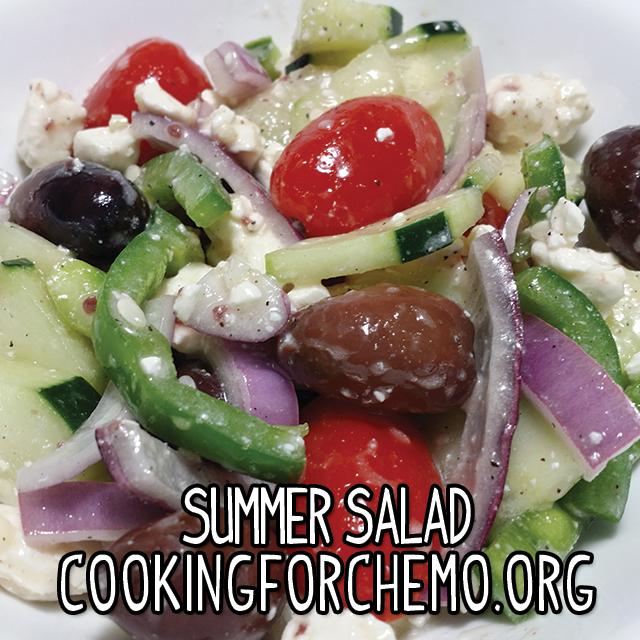 ---
Summer Salad Recipe for Cancer and Chemotherapy
Ease of Preparation: Easy Recipe
Dish Description:
This salad is absolutely one of my favorites to eat during the summer. The tomatoes and the cucumbers work together to make a dish that is both savory and light. The vinegar in this dish is what really pulls all the flavors together. The longer you let this marinate, the more homogenized the flavors become.
Tasting Guidelines:
This dish should taste savory.
The weight of this dish is light but can be balanced with red wine vinaigrette.
The texture of this dish is like a salad.
This dish is good for people with low to moderate treatment side effects.
This dish gives an emotional response of summer time freshness.
This dish is best categorized as Mediterranean.
Food Ingredients:
8 oz. feta cheese, diced
4 Roma tomatoes
1 large cucumber
2 green bell peppers
1 medium red onion, sliced
a generous but reasonable helping of Kalamata olives
Flavor Balancers:
kosher salt to taste
freshly ground black pepper to taste
red wine vinaigrette (I personally use the brand "Wishbone")
Recipe Directions:
Wash all fresh ingredients thoroughly before cutting. Cut all ingredients into 1" chunks. Place prepared ingredients in large serving bowl. Sprinkle with feta cheese and olives. Toss dressing with all ingredients 30 minutes before serving.
---
Cooking for Chemo focuses on teaching you how to make your food taste good again during cancer and chemotherapy treatments. The flavor and cooking techniques contained within our easy to make recipes will help improve your quality of life as you go through cancer and chemotherapy treatments. Our cooking and flavor techniques can be integrated with any diet regimine. All of our recipes can be made with organic ingredients if you choose. Our holistic approach to cooking will help you not only be able to eat but to also enjoy the taste of your food again during and after cancer and chemotherapy treatments. We have many healthy recipes, crockpot recipes, chicken recipes, dinner recipes, shrimp recipes, pasta recipes, soup recipes, vegan recipes, salad recipes, vegetarian recipes, breakfast recipes, and even a great chili recipe. Talk with your oncologist and dietitian to come up with a quality nutrition plan. This site is not to be taken as or used instead of professional medical advice. Please consult your doctor, oncologist, and dietitian before starting any new diet.
This recipe is taken from Cooking for Chemo …and After! By Chef Ryan Callahan -The Cancer Chef. For more cooking for chemotherapy recipes like this, you can pick up a copy on Amazon or Barnes and Noble. Have specific questions? Email us at cookingforchemo@gmail.com