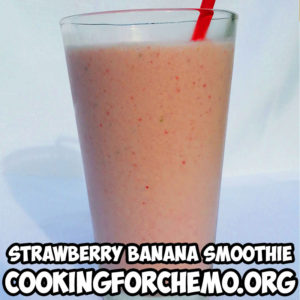 ---
Strawberry Banana Smoothie Recipe for Cancer and Chemotherapy
Recipe Description
Strawberry and banana puts the smooth in smoothie! There is no better way to describe the blending of tart strawberries and mellow bananas in this recipe.
Makes 2 -12 oz. servings.
Tasting Guidelines
Taste is sweet.
Weight is medium.
Texture is smooth.
Good for people with low to severe treatment side effects.
Ingredients
½ c. milk
¼ c. honey Greek yogurt
5 frozen strawberries
1 ripe banana
½ c. ice cubes
1 scoop chocolate protein powder (optional)
Flavor Balancers
2 tbsp. sugar
Recipe Directions
1 Add all ingredients into the blender and cover.
2 Activate the blender. If you have frozen ingredients that are not cooperating, use the pulse function and a little finesse to pulse your way into the perfect mixture.
3 Taste you smoothie and adjust. Is there too much or not enough of a certain ingredient or flavor? Adjust the flavors just like you would do anything else.
4 Serve in a glass with a straw. Garnish if desired.
Chef Tips
For extra protein and a fun new twist on my favorite smoothie, add chocolate protein powder.
---
Cooking for Chemo focuses on teaching you how to make your food taste good again during cancer and chemotherapy treatments. The flavor and cooking techniques contained within our easy to make recipes will help improve your quality of life as you go through cancer and chemotherapy treatments. Our cooking and flavor techniques can be integrated with any diet regimen. All of our recipes can be made with organic ingredients if you choose. Our holistic approach to cooking will help you not only be able to eat but to also enjoy the taste of your food again during and after cancer and chemotherapy treatments. We have many healthy recipes, crockpot recipes, chicken recipes, dinner recipes, shrimp recipes, pasta recipes, soup recipes, vegan recipes, salad recipes, vegetarian recipes, breakfast recipes, and even a great chili recipe. Talk with your oncologist and dietitian to come up with a quality nutrition plan. This site is not to be taken as or used instead of professional medical advice. Please consult your doctor, oncologist, and dietitian before starting any new diet.
For more cooking for chemotherapy recipes like this, you can pick up a copy of Cooking for Chemo …and After! by Chef Ryan Callahan on Amazon. Have specific questions? Email us at cookingforchemo@gmail.com