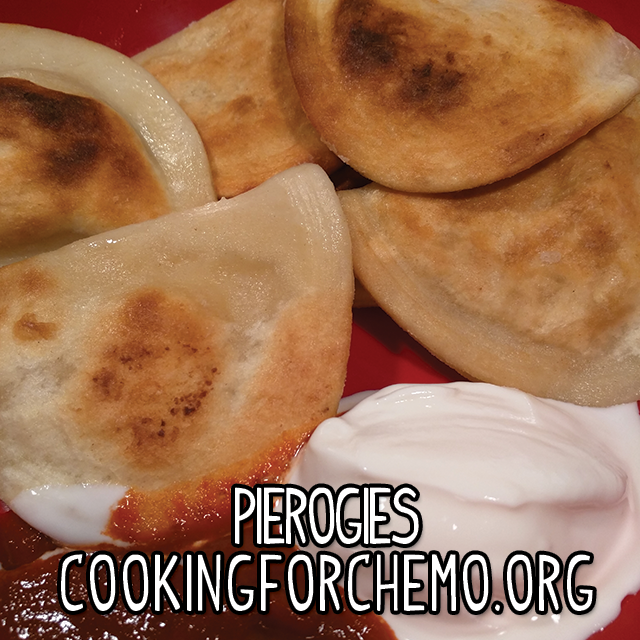 ---
Easy Pierogis Recipe for Cancer and Chemotherapy
Ease of Preparation: Easy Recipe
Dish Description:
One of my mom's favorites and an exceptionally easy snack. The main benefit to this dish is that all you have to do it take them out of the freezer and make them really quick. This dish is easy and quick when you're in a pinch for time.
Tasting Guidelines:
This recipe should taste savory.
The weight of this recipe is medium.
The texture of this recipe is soft.
This recipe is good for people with low to severe treatment side effects.
This recipe gives an emotional response of comfort food.
This recipe is best categorized as Polish.
Ingredients:
1 package frozen pre-made pierogis.
2 tbsp. oil
Recipe Directions:
Take pierogis and sauté pan with lid. Fill sauté pan 1/2 with water. Bring to a boil. Then add frozen pierogis. Boil about 6 minutes. Dump water and pierogis into strainer. Bring sauté pan back to high heat. Add 2 tbsp. of oil. When oil is hot, add pierogis and pan fry until browned about 4 minutes.
Chef Recipe Tips:
Makes a good quick snack. Can be found in Walmart in the frozen food aisle and other major grocery stores. Serve with sour cream or hot sauce. My mom went crazy for these because they were so simple and easy!
---
Cooking for Chemo focuses on teaching you how to make your food taste good again during cancer and chemotherapy treatments. The flavor and cooking techniques contained within our easy to make recipes will help improve your quality of life as you go through cancer and chemotherapy treatments. Our cooking and flavor techniques can be integrated with any diet regimine. All of our recipes can be made with organic ingredients if you choose. Our holistic approach to cooking will help you not only be able to eat but to also enjoy the taste of your food again during and after cancer and chemotherapy treatments. We have many healthy recipes, crockpot recipes, chicken recipes, dinner recipes, shrimp recipes, pasta recipes, soup recipes, vegan recipes, salad recipes, vegetarian recipes, breakfast recipes, and even a great chili recipe. Talk with your oncologist and dietitian to come up with a quality nutrition plan. This site is not to be taken as or used instead of professional medical advice. Please consult your doctor, oncologist, and dietitian before starting any new diet.
This recipe is taken from Cooking for Chemo …and After! By Chef Ryan Callahan -The Cancer Chef. For more cooking for chemotherapy recipes like this, you can pick up a copy on Amazon or Barnes and Noble. Have specific questions? Email us at cookingforchemo@gmail.com