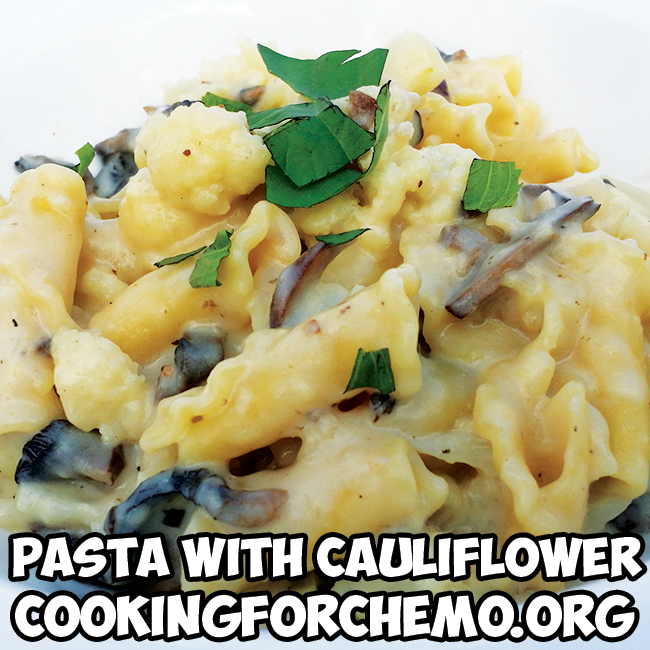 ---
Pasta with Cauliflower Recipe for Cancer and Chemotherapy
Description
Pasta with Cauliflower is a perfect example of an American-Italian cream sauce pasta. The savory, cheesy sauce covers the noodles and cauliflower perfectly. The best noodles to use are the kinds that will absorb, store, or scoop the sauce. Featured in the picture is Campanelle, but Cavatelli or shells work great too. This savory cheesy pasta is sure to delight, even the pickiest eaters.
Tasting Guidelines
Taste is savory.
Weight is medium.
Texture is soft.
Best categorized as American-Italian.
Ingredients
1 lb. large shell or cavatelli noodles, cooked
1 cauliflower head, chopped into bite size pieces
8 oz. Portabella mushrooms, sliced thin
4 tbsp. butter, margarine, or olive oil
3 tbsp. all purpose flour
2 c. whole milk
1 c. Parmesan, grated
Flavor Balancers
Kosher salt to taste
black pepper to taste
1 tsp. red wine vinegar
2 tbsp. sugar, granulated
Aromatics
2 tbsp. garlic, minced
Recipe Directions
Cook your pasta and set to the side. Heat a large sauté pan over medium heat. Add butter and melt. When butter is melted; add garlic and mushrooms. In a large sauce pan, steam cauliflower until fork tender. When mushrooms and garlic have lightly browned, stir in flour and cook until flour has been fully mixed.
Add whole milk and flavor balancers to form body of sauce. Allow to simmer 15 minutes or until sauce has thickened and all ingredients have homogenized. Stir constantly to avoid burning. Remove from heat and stir in Parmesan cheese and your drained, steamed cauliflower. Toss sauce and pasta together and enjoy.
Chef Tips
Make sure to drain your cauliflower thoroughly, or else your sauce will turn out thin and runny. The key to making this absolutely perfect is to get the sauce into the cauliflower and into the pasta crevasses. This ensures a cheesy, savory, and most importantly consistent end product.
---
Cooking for Chemo focuses on teaching you how to make your food taste good again during cancer and chemotherapy treatments. The flavor and cooking techniques contained within our easy to make recipes will help improve your quality of life as you go through cancer and chemotherapy treatments. Our cooking and flavor techniques can be integrated with any diet regimen. All of our recipes can be made with organic ingredients if you choose. Our holistic approach to cooking will help you not only be able to eat but to also enjoy the taste of your food again during and after cancer and chemotherapy treatments. We have many healthy recipes, crockpot recipes, chicken recipes, dinner recipes, shrimp recipes, pasta recipes, soup recipes, vegan recipes, salad recipes, vegetarian recipes, breakfast recipes, and even a great chili recipe. Talk with your oncologist and dietitian to come up with a quality nutrition plan. This site is not to be taken as or used instead of professional medical advice. Please consult your doctor, oncologist, and dietitian before starting any new diet.
For more cooking for chemotherapy recipes like this, you can pick up a copy of Cooking for Chemo …and After! by Chef Ryan Callahan on Amazon. Have specific questions? Email us at cookingforchemo@gmail.com