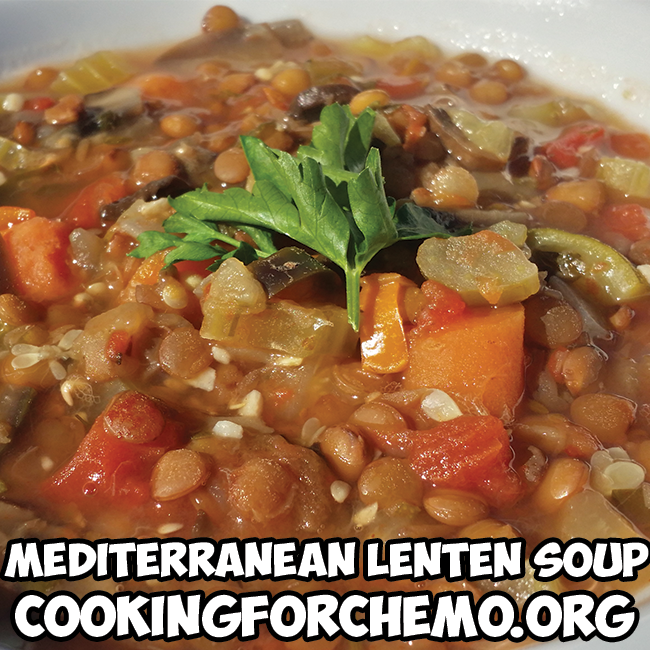 ---
Mediterranean Lenten Soup for Cancer and Chemotherapy
Description
This Lenten soup is a variation of the classic lentil soup found all across the Mediterranean. Savory yet light in weight, it is perfect for the coldest winter day or even the hottest summer day. Lentils are a great source of protein and fiber.
Tasting Guidelines
Taste is savory and spicy.
Weight is light but can be balanced with sugar.
Texture is soft.
Good for people with low to severe treatment side effects.
Best categorized as classic Mediterranean.
Ingredients
1 lb. green lentils, washed
1 28 oz. can petite diced tomatoes
1 gallon water
1 red onion, medium diced
4 carrots, thinly sliced
4 celery stalks, thinly sliced
4 small zucchini, cut into quarters and thinly sliced
2 green peppers, medium diced
1 medium eggplant, cut into quarters and thinly sliced
Flavor Balancers
Kosher salt
2 tbsp. soy sauce
black pepper to taste
1 tsp. red pepper flakes
3 tsp. red wine vinegar
1 tbsp. sugar
Aromatics
4 tbsp. parsley, finely chopped
1 tbsp. dried oregano
2 tbsp. garlic, minced
Recipe Directions
Soaking the Lentil Beans
In a large stock pot, place rinsed lentil beans, a tbsp. kosher salt, and 2 qt. of hot tap water. Mix thoroughly and allow beans to soak in hot water at least 1 hour.
Salting the Eggplant
Place a paper towel in a colander. Sprinkle a generous amount of Kosher salt onto the paper. Place sliced eggplant quarters onto the paper and lightly sprinkle the top side with Kosher salt. Repeat this salting process, creating concentric circles of salted eggplant. Allow salted eggplant to rest 30 minutes.
Preparing the Soup
Drain and thoroughly rinse lentils in a colander separate from the salted eggplant. Return lentils to large stock pot. Add 1 gallon hot tap water to stock pot and bring to a boil. Rinse excess salt from eggplant and add eggplants to stock pot. Follow this with remaining ingredients, flavor balancers, and aromatics. Boil covered over medium-heat for 60 minutes. Stir frequently to avoid burning. After 60 minutes, taste soup for proper seasoning and adjust as necessary. Lower temperature to a low setting and allow soup to simmer 60 more minutes or until lentils no longer have a grainy texture.
Chef Tips
The defining quality of this dish is the lentils themselves. If your lentils turn out poorly, the entire dish is ruined. So take the time to cook your lentils until they are no longer grainy and are soft. The initial 1 hour soaking time is a minimum recommended time not a maximum recommended time.
---
Cooking for Chemo focuses on teaching you how to make your food taste good again during cancer and chemotherapy treatments. The flavor and cooking techniques contained within our easy to make recipes will help improve your quality of life as you go through cancer and chemotherapy treatments. Our cooking and flavor techniques can be integrated with any diet regimen. All of our recipes can be made with organic ingredients if you choose. Our holistic approach to cooking will help you not only be able to eat but to also enjoy the taste of your food again during and after cancer and chemotherapy treatments. We have many healthy recipes, crockpot recipes, chicken recipes, dinner recipes, shrimp recipes, pasta recipes, soup recipes, vegan recipes, salad recipes, vegetarian recipes, breakfast recipes, and even a great chili recipe. Talk with your oncologist and dietitian to come up with a quality nutrition plan. This site is not to be taken as or used instead of professional medical advice. Please consult your doctor, oncologist, and dietitian before starting any new diet.
For more cooking for chemotherapy recipes like this, you can pick up a copy of Cooking for Chemo …and After! by Chef Ryan Callahan on Amazon or Barnes and Noble. Have specific questions? Email us at cookingforchemo@gmail.com