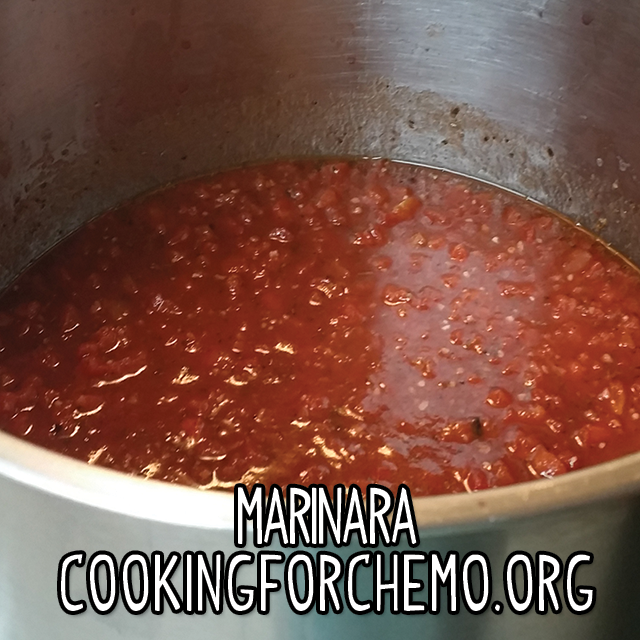 ---
Home-Style Marinara Recipe for Cancer and Chemotherapy
Ease of Preparation: Intermediate Recipe
Dish Description:
A classic marinara sauce made with approval from my wife's Sicilian family. Savory and aromatic with sweetness to balance out the acidity of the natural tomatoes.
Tasting Guidelines:
This recipe should taste savory, sweet, and be aromatic.
The weight of this recipe is light but can be balanced with sugar.
The texture of this recipe is saucy.
This recipe is good for people with low to severe treatment side effects.
This recipe gives an emotional response of home cooked goodness.
This recipe is best categorized as classic Italian fare.
Food Ingredients:
2 large cans tomatoes, diced
1 tbsp. olive oil
Flavor Balancers:
kosher salt to taste
2 c. Chianti (red wine)
black pepper to taste
1 tsp. cayenne pepper or 2 firm shakes of red pepper flakes
2 tbsp. red wine vinegar
1/4 cup sugar
Aromatics:
2 tbsp. garlic, minced
1/2 tbsp. oregano
fresh basil (optional and added at the end)
Recipe Directions:
Take a 2 qt. sauce pan and bring to medium heat. Sauté the garlic in the olive oil until lightly brown. Immediately add oregano, red pepper, and red wine to stop the garlic from processing any further. Allow wine to reduce for 10 minutes. Add salt, black pepper, red wine vinegar, and tomatoes. Stir well. Allow to simmer over medium heat uncovered for 45 minutes to an hour, stirring frequently to avoid burning. After 45 minutes, take a whisk and using a whisking/mashing motion break down the tomatoes until it begins to look more like marinara sauce.
As you break down the tomato chunks, they will mix with the tomato juice and will naturally thicken the sauce. Add sugar and allow to simmer 15 more minutes, and then begin the final seasoning process. Add more salt, sugar, and black pepper as necessary. If sauce is acidic and makes the back of your tongue or mouth feel dry, add sugar in small increments, stirring the sauce thoroughly to melt the sugar into the sauce. For a rustic or home-style marinara, whisking should be sufficient to attain the desired consistency. If a more commercial-looking sauce is desired, blend the diced tomatoes in a blender before adding them to the pot.
Chef Recipe Tips:
You never want your marinara to be bright red. Any marinara sauce that is bright red has not been cooked for long enough for the truly savory aspects of the tomatoes to be released. Therefore, you look for a deeper red similar to a burgundy to tell that the sauce is truly finished. Never ever ever ever cook your marinara sauce over high heat because plain and simply you will burn it! Slow and low is the tempo. It is better to slowly prepare your marinara than to burn it.
You also need to make certain that you have a nice, thick-bottomed pot. A thin pot will absolutely burn the sauce before the top of your sauce even gets warm. If you are terrified of burning the sauce, you can always make it in a slow cooker on low heat and let it work overnight.
---
Cooking for Chemo focuses on teaching you how to make your food taste good again during cancer and chemotherapy treatments. The flavor and cooking techniques contained within our easy to make recipes will help improve your quality of life as you go through cancer and chemotherapy treatments. Our cooking and flavor techniques can be integrated with any diet regimine. All of our recipes can be made with organic ingredients if you choose. Our holistic approach to cooking will help you not only be able to eat but to also enjoy the taste of your food again during and after cancer and chemotherapy treatments. We have many healthy recipes, crockpot recipes, chicken recipes, dinner recipes, shrimp recipes, pasta recipes, soup recipes, vegan recipes, salad recipes, vegetarian recipes, breakfast recipes, and even a great chili recipe. Talk with your oncologist and dietitian to come up with a quality nutrition plan. This site is not to be taken as or used instead of professional medical advice. Please consult your doctor, oncologist, and dietitian before starting any new diet.
This recipe is taken from Cooking for Chemo …and After! By Chef Ryan Callahan -The Cancer Chef. For more cooking for chemotherapy recipes like this, you can pick up a copy on Amazon or Barnes and Noble. Have specific questions? Email us at cookingforchemo@gmail.com