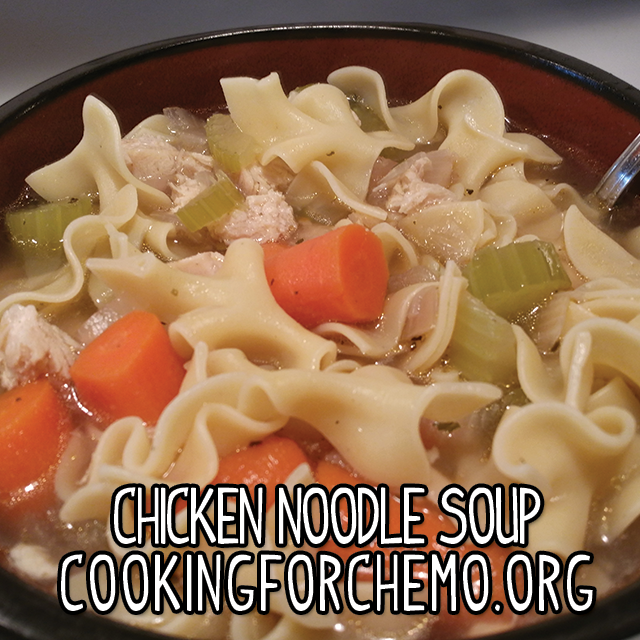 ---
Chicken Noodle Soup Recipe for Cancer and Chemotherapy
Ease of Preparation: Easy Recipe
Dish Description:
An American classic. If there is somebody in the United States that has never heard of chicken noodle soup, they must live under the world's largest rock. This dish is what I consider to be a slightly up-market take on the dish. This chicken noodle features big cuts of veggies, egg noodles, and a good aromatic quality.
Tasting Guidelines:
This recipe should taste savory and aromatic.
The weight of this recipe is light but can be balanced with sugar and red wine vinegar.
The texture of this recipe is soupy.
This recipe is good for people with moderate to severe treatment side effects.
This recipe gives an emotional response of being loved when you are sick.
This recipe is best categorized as classic American.
Food Ingredients:
1/2 pound chicken breast, cooked and chopped
1 24 oz. pack of egg noodles, cooked
1/2 cup onion, chopped
1/2 cup celery, chopped
1/2 cup carrots, sliced
2 large can chicken broth
1 tbsp. oil
Flavor Balancers:
kosher salt to taste
1 tsp.  light soy sauce or 1/2 tbsp. MSG (Optional, and possibly unnecessary)
black pepper to taste
1/2 tbsp. red wine vinegar
1/2 tbsp. sugar
Aromatics:
2 bay leaves
1/2 tbsp. ground sage
Recipe Directions:
Heat oil and 1 c. water in a large spaghetti pot over medium heat. Cook the onion, celery, and carrots until tender allowing the water to reduce and sautéing the vegetables after the water evaporates. Add chicken and sauté lightly as well. Add seasonings and broth. Allow to come to a boil. Reduce from a boil and allow to simmer 30 minutes. Add egg noodles 5 minutes before serving. Remove bay leaves immediately before serving.
Chef Recipe Tips:
For a more savory soup, add a small can of diced tomatoes, mushrooms, 1 tbsp. dark soy sauce, or 1 tbsp. MSG.
For a little kick, add a little cayenne pepper in the beginning of cooking. It will help with any congestion in the head. A little red wine vinegar can help ease a queasy stomach as can a few slices of peeled fresh ginger and soy sauce. Do not eat the slices of ginger, remove before serving.
---
Cooking for Chemo focuses on teaching you how to make your food taste good again during cancer and chemotherapy treatments. The flavor and cooking techniques contained within our easy to make recipes will help improve your quality of life as you go through cancer and chemotherapy treatments. Our cooking and flavor techniques can be integrated with any diet regimine. All of our recipes can be made with organic ingredients if you choose. Our holistic approach to cooking will help you not only be able to eat but to also enjoy the taste of your food again during and after cancer and chemotherapy treatments. We have many healthy recipes, crockpot recipes, chicken recipes, dinner recipes, shrimp recipes, pasta recipes, soup recipes, vegan recipes, salad recipes, vegetarian recipes, breakfast recipes, and even a great chili recipe. Talk with your oncologist and dietitian to come up with a quality nutrition plan. This site is not to be taken as or used instead of professional medical advice. Please consult your doctor, oncologist, and dietitian before starting any new diet.
This recipe is taken from Cooking for Chemo …and After! By Chef Ryan Callahan -The Cancer Chef. For more cooking for chemotherapy recipes like this, you can pick up a copy on Amazon or Barnes and Noble. Have specific questions? Email us at cookingforchemo@gmail.com