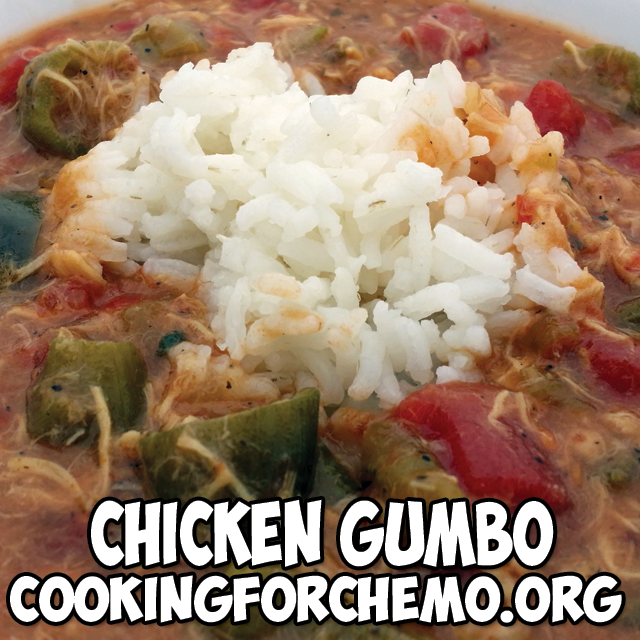 ---
Chicken Gumbo Recipe for Cancer and Chemotherapy
Recipe Description
The classic creole dish featuring the obligatory holy trinity of peppers, onions, and celery. The holy trinity is the Cajun version of mirepoix. Gumbo is fantastic in that it is both light and flavorful at the same time. Be careful with the rice. As a little can go a long way. If you put in too much rice, you will end up with a rice dish (not a soup) that tastes like gumbo. I have learned this from experience.
Tasting Guidelines
Taste is savory, a little spicy, and aromatic.
Weight is light.
Texture is soft.
Good for low to moderate side effects.
Best categorized as Cajun/Creole.
Ingredients
2 lbs. chicken breast, cut into 1/2" cubes
4 c. rice, cooked (set to the side for serving)
1 28 oz. can diced tomatoes
2 green peppers, cored, diced, seeded
1 yellow onion, diced
4 celery stalks, chopped
1 c. okra, frozen
3 qt. chicken broth
¼ c. oil or butter
Flavor Balancers
Kosher salt to taste
black pepper to taste
½ tsp. cayenne pepper
1 tbsp. red wine vinegar
1 tbsp. sugar
Aromatics
2 tbsp. garlic, minced
2 bay leaves
1 tsp. rubbed sage
Recipe Directions
Bring a large pot to a medium heat. Add oil or butter for sauteing. Saute onions, green peppers, celery and garlic. Cook until translucent. At this point stir in the cubed chicken breasts. Saute chicken until lightly brown and cooked thoroughly. Add salt and pepper. After the chicken is fully cooked, lightly deglaze the pan with red wine vinegar. Allow to reduce. Stir in tomatoes, chicken broth, and okra. Add remaining ingredients, seasonings, and aromatics. Bring to a boil. Allow to simmer rapidly for 45 minutes. Adjust seasonings to serve.
Scoop hot rice into bowls, and cover with gumbo.
Chef Tips
This recipe employs what is referred to in Cajun and creole food as "the holy trinity." The Holy Trinity is onions, celery, and green peppers. This forms the base for that traditional Louisiana flavor.
Okra forms the thickener in this recipe. The longer it cooks, the thicker the gumbo becomes. Traditional Louisiana Gumbo is actually not a soup, but a stew. To make your gumbo more authentic, add 4 tbsp of flour after sauteing. Omit deglazing, and instead add the red wine vinegar after adding the tomatoes. Cook the flour in the saute pan until flour has turned into a nice brown roux. After this return to the recipe and add the tomatoes, chicken broth, red wine vinegar, and okra.
Do not cook the rice in the Gumbo, as the rice will swell and overtake the entire pot.
This recipe pairs well with cornbread.
---
Cooking for Chemo focuses on teaching you how to make your food taste good again during cancer and chemotherapy treatments. The flavor and cooking techniques contained within our easy to make recipes will help improve your quality of life as you go through cancer and chemotherapy treatments. Our cooking and flavor techniques can be integrated with any diet regimen. All of our recipes can be made with organic ingredients if you choose. Our holistic approach to cooking will help you not only be able to eat but to also enjoy the taste of your food again during and after cancer and chemotherapy treatments. We have many healthy recipes, crockpot recipes, chicken recipes, dinner recipes, shrimp recipes, pasta recipes, soup recipes, vegan recipes, salad recipes, vegetarian recipes, breakfast recipes, and even a great chili recipe. Talk with your oncologist and dietitian to come up with a quality nutrition plan. This site is not to be taken as or used instead of professional medical advice. Please consult your doctor, oncologist, and dietitian before starting any new diet.
For more cooking for chemotherapy recipes like this, you can pick up a copy of Cooking for Chemo …and After! by Chef Ryan Callahan on Amazon. Have specific questions? Email us at cookingforchemo@gmail.com