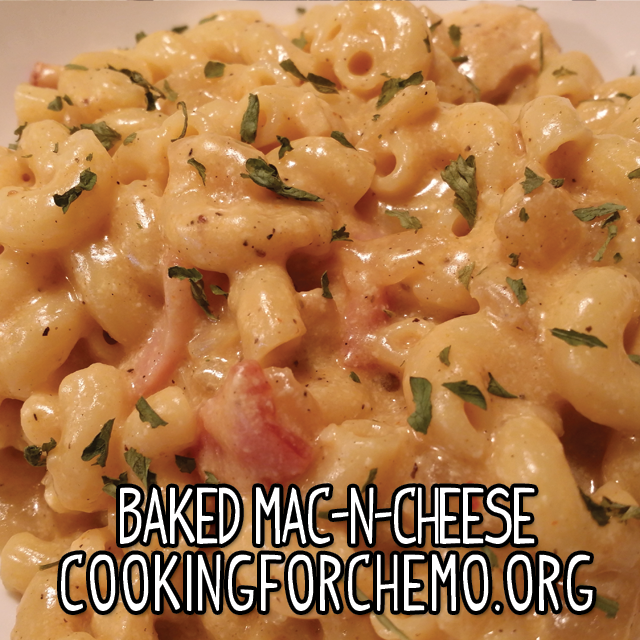 ---
Baked Mac 'n' Cheese Recipe for Cancer and Chemotherapy
Ease of Preparation: Easy Recipe
Dish Description:
A classic casserole dish from the 1950s. This dish is characterized by it's ease of preparation and savory, cheesy flavor.
Tasting Guidelines:
This recipe should taste savory and cheesy with a hint of salty.
The weight of this recipe is heavy but can be balanced with vinegar.
The texture of this recipe is soft.
This recipe is good for people with low to moderate treatment side effects.
This recipe gives an emotional response of childhood memories.
This recipe is best categorized as comfort food.
Food Ingredients:
4 slices crispy bacon, chopped
1 lb. elbow macaroni, cooked in salted water.
8 oz. sharp cheddar, shredded
8 oz. American cheddar, shredded
1/2 yellow onion, chopped
1 c. milk
1 tbsp. butter
1 tbsp. flour
Flavor Balancers:
1 tsp. kosher salt
1/2 tbsp. black pepper
1 tsp. red pepper flakes
1 tbsp. red wine vinegar
1/2 tbsp. sugar
Aromatics:
1 tbsp. garlic, minced
1 tbsp. bay seasoning
Recipe Directions:
Preheat your oven to 375°F . In a large sauce pan, melt butter over medium heat. Add onion and garlic. Allow onions to caramelize stirring frequently. Stir in flour until butter is absorbed. Add milk. Stir thoroughly, avoiding burning the milk. Add seasonings and cheese. Mix thoroughly, and taste for flavor. Slowly stir in macaroni. If there is not enough sauce, slowly add milk until pasta is thoroughly coated. Adjust seasonings as necessary. Bake in deep casserole dish at least 15 minutes.
Chef Recipe Tips:
To make this more of a meal, add some cooked, cubed chicken breast. This is a fantastic meal in itself or used as a side.
---
Cooking for Chemo focuses on teaching you how to make your food taste good again during cancer and chemotherapy treatments. The flavor and cooking techniques contained within our easy to make recipes will help improve your quality of life as you go through cancer and chemotherapy treatments. Our cooking and flavor techniques can be integrated with any diet regimine. All of our recipes can be made with organic ingredients if you choose. Our holistic approach to cooking will help you not only be able to eat but to also enjoy the taste of your food again during and after cancer and chemotherapy treatments. We have many healthy recipes, crockpot recipes, chicken recipes, dinner recipes, shrimp recipes, pasta recipes, soup recipes, vegan recipes, salad recipes, vegetarian recipes, breakfast recipes, and even a great chili recipe. Talk with your oncologist and dietitian to come up with a quality nutrition plan. This site is not to be taken as or used instead of professional medical advice. Please consult your doctor, oncologist, and dietitian before starting any new diet.
This recipe is taken from Cooking for Chemo …and After! By Chef Ryan Callahan -The Cancer Chef. For more cooking for chemotherapy recipes like this, you can pick up a copy on Amazon or Barnes and Noble. Have specific questions? Email us at cookingforchemo@gmail.com